April 21 Start Date Locked In
I am now locked on a start date of April 21.   I have a flight to San Diego on April 20th.    I'm set up with Scout & Frodo, famous trail angels in San Diego.   They will pick me up at the airport and take me to their home where they have large tents set up to host hikers.  In the morning they supply a breakfast and then a one hour ride to the Mexican border where the trail begins.   This couple hiked the PCT years ago and do this out of their love for the trail and hikers.
Permit Hell
Last week I went through the permit process with the Pacific Crest Trail Association.  A nightmare.  They opened up the process for a max of 35 permits per day at 10:30 pacific and the servers went down immediately due to the load.  After an hour of trying I got through and it appeared to work.  By then it was saying there were 2 slots left.  They did take my donation which was done at the same time and the same form submit.  I never got a confirmation email as others did so I had to email the PCTA and ask them to check on my application.  Today I got confirmation that I'm all set.  They expect to send out the permits in mid February.
I also have my California fire permit and the Canadian Border Services approved my application to enter British Columbia, Canada via the PCT.    All the legal stuff is covered.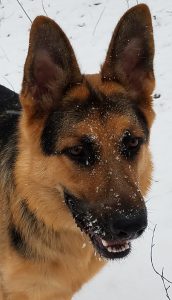 Physical Training
After losing 29 lbs during my October 500 mile hike I quickly gained most of it back.   I've now starting walking 5 miles per day with my backpack on and loaded.   Jorn, my German Shepherd, is also enjoying our hikes.  I'll double that soon and then after some weeks bump it up to doing 20 miles every couple of days.   I need to be able to start off doing 20 mile plus days so while I'll get into shape on the hike, I can't afford to be totally out of shape when I start.
Maps, Gear & Resupply Plans
While hiking I expect to mostly use my phone for navigation.  I  have the Guthook PCT app as well as the Halfmile PCT guide app.   I'm also going to carry hardcopy maps as backup.   I got the Halfmile maps printed on 8.5×11 but I now have the series of PCT maps done by the Forest Service.  The scale is a bit bigger so perhaps not as good for detailed navigation but easier to see bigger picture, lighter and only for backup anyway.   I will only take the Halfmile maps for the handful of fire closure detours.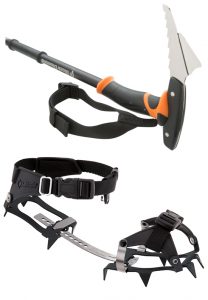 I recently got my crampons, whippet pole and bear can.   I'll either ship these to Kennedy Meadows or have Gayle bring them when she meets me in Lone Pine.  Likely I'll need the crampons and whippet pole to get from Kennedy Meadows to Lone Pine this year because it goes over 11k feet and so far it is on track to be the snowiest year in a couple of decades.
I've done and redone and done again my resupply plan.   Of 27 planned resupplies I will ship food to 8 of them and buy locally at the others.   There will also be several spots where I will ship maps and perhaps just a few things.   Of those 8 food drops I will prepare and ship the first two, Warner Springs and Kennedy Meadows, before I leave.    That gets me to mile 750 where Gayle will be meeting me in Lone Pine.   From there I'll probably order via Zero Day Resupply and have them ship the next two packages, Vermillion Valley and Sierra City.    In Ashland OR I'll order via Zero Day the final 5 shipments.