Day 43: Welcome To Snow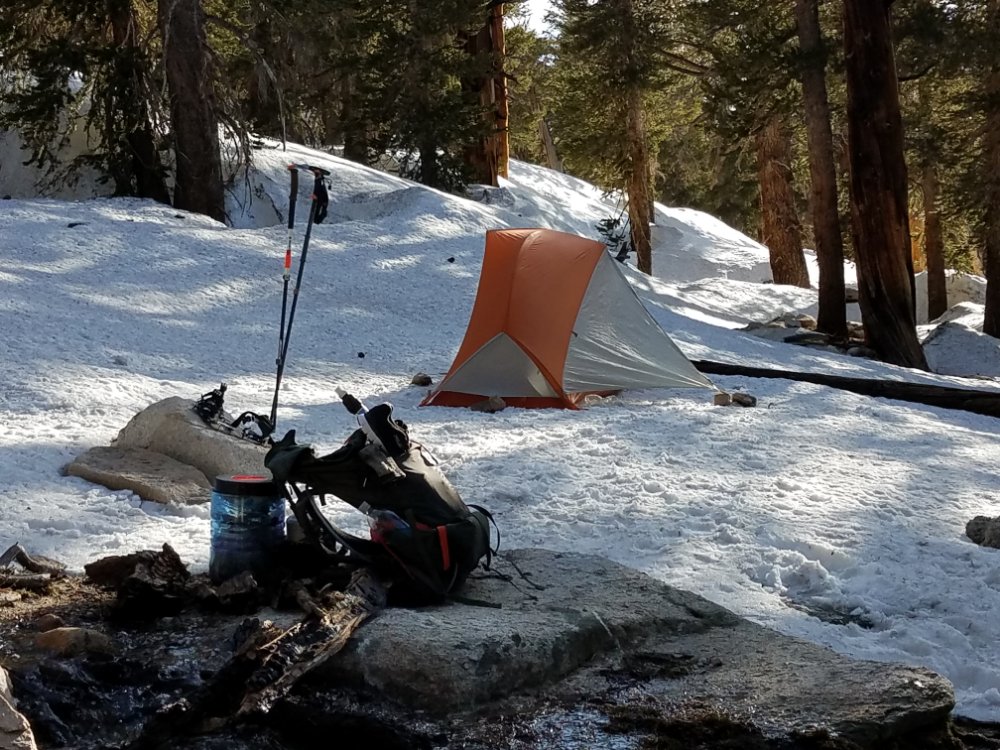 From Death Creek Canyon mile 730.8 to mile 746.4 about 1.1 miles north of Trail Pass
As I write this I am laying in my tent and I am currently warm.  I am at 10,700 feet and camped on snow.   Will I stay warm is the question.
Under my is a .25 inch thick foam pad, then a 2 inch thick air pad.  My bag is down and rated for 20 degrees.   I have my down jacket wrapped around my feet inside the bag.  I am wearing very light long bottoms, a fleece pullover, a down had and gloves.  Basically, I am wearing all of the clothes I have.
We hiked 15.6 miles today, most of it very pleasant.  Early in the day we climbed to just over 10,000 feet and there were areas of snow but not so much that the trail was hard to follow.   By 4 we made it to Trail Pass, where a side trail goes down to Horseshoe Meadows and a road to Lone Pine.  No snow here.
We decided to go another couple of miles.  The trail climbed a bit and went around the west side of the slope.   Now it was solid snow.  Even with crampons ( 3/4 inch spikes on your feet) the hiking was hard and slow.   Every step has to be planned, it is so easy to slide.  It took an hour to do one mile.  We were following some footprints but my GPS showed them straying from the trail so we cut our own path.
We are camped on the trail, we can see a tree that came down across the trail and was then cut.
Tomorrow we have 4.4 miles to do.  We thought it would be easy, now we know it will be a half day of hard work.