Day 76: Rainy, Hot & Ugly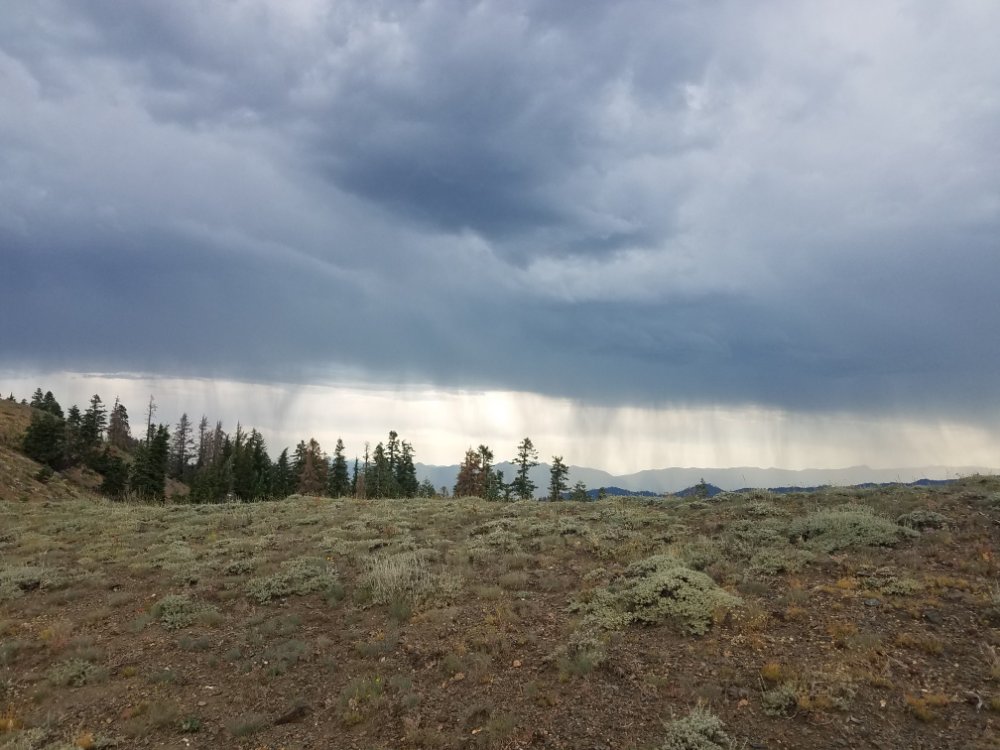 From mile 1629.9 to Seiad Valley mile 1653.4
At 4:30 this morning I felt a few drops.  I looked up and realized I could no longer see stars.  Wow.  I have not had rain in so long it took a minute to sink in.  Then I jumped up and put the rainfly on my tent by flashlight.
By 5:30 thunder was getting louder.  I was under some pines but on the edge of an open area.  Maps showed me having a short climb across some open ridge top before the trail descended way down to Seiad Valley.  So I waited.  At 7:30 it seemed quiet so I left.  I got a half mile and into an open area just in time for a black cloud and a huge lightning strike less than a mile away.  I raced to some pines and hunkered down till it passed.
The trail dropped over the course of the day from 7200 to 1500 feet.  Much of the day was in a burned forest.  The trees were still standing but were dead.  The undergrowth had returned and with all the sun it was going nuts.  The trail was seriously overgrown in many sections.  The clouds cleared and it got very hot.
After following Grider Creek for 10 miles the last 6 miles of the day were on a back road.  Another round of thunderstorms approached as I still had miles to go.  Finally the bridge over the Klamath River appeared and I made it to the tiny town of Seiad Valley.
I am staying at the RV park and got hot dogs at the tiny store.  No cell service but they have Wi-Fi.  I am showered and ready to crash.
My right boot has further disintegrated, a chunk of tread has come off the heel and another section is loose and about to go.  My foot now leans inward because that side is an inch lower now.  Could explain why my heel on that side hurts.  I have to decide if I can walk on this another 63 miles to Ashland.  If not I will have to hitch from here.   New boots await me at the Ashland Post Office.