Day 83: Oregon Turned On Me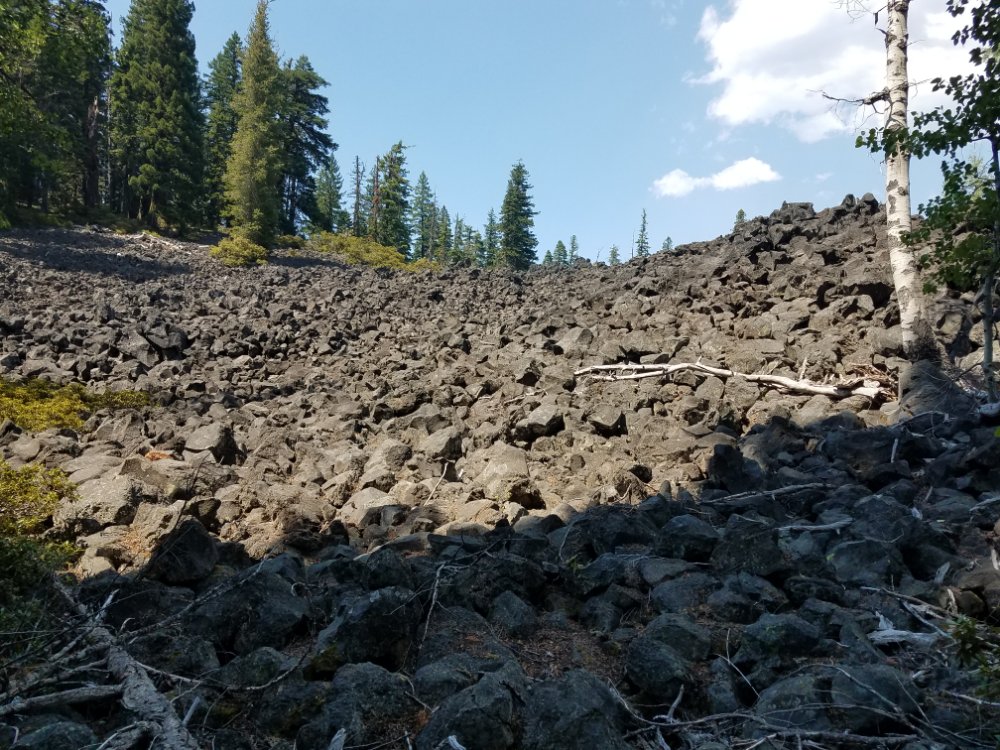 From Klum Landing mile 1747.9 to Fish Lake mile 1770.9
Oregon had been so nice and gentle to me. Nice soft footpath, shaded by tall pines, very gentle and pleasant hiking.
Oregon continued to be nice this morning. I got a very late start (7:30) but made great time. By 1:00 I had gone 14 miles and enjoyed lunch near the Brown Shelter, though I did not go down to the shelter itself. Totes, who I had passed earlier, caught up to me there.
Right after lunch Oregon turned on me. No more lovely and easy trail. Now it was all lava rock from ancient lava flows. It was over 100 degrees and the rock was radiating heat. No shade either. At least most of the trail was nicely constructed so the tread was often smooth.
At 5:30 I hit Hwy 140. Fish Lake with a campground, cafe and store was 2.3 miles west. I decided that if I got a ride within 30 minutes I would go there, otherwise I would camp just north of the road. In 5 minutes I got a ride from a guy going to the campground. Sam invited me to join him and some friends at their campsite. He hiked part of the trail last year and just drove from Iowa to start another section. His friends met him here to take his truck.
I ate a burger at the cafe, talked to Gayle and then found the campsite. Nice folks but it is after 11 and I am still awake. I have gone to bed but they are still up and making noise. Sam has had a few beers and is ready to keep going.
Okay, it will get quiet now because the campground host just came by and chastised them.