PCT Resupply Plan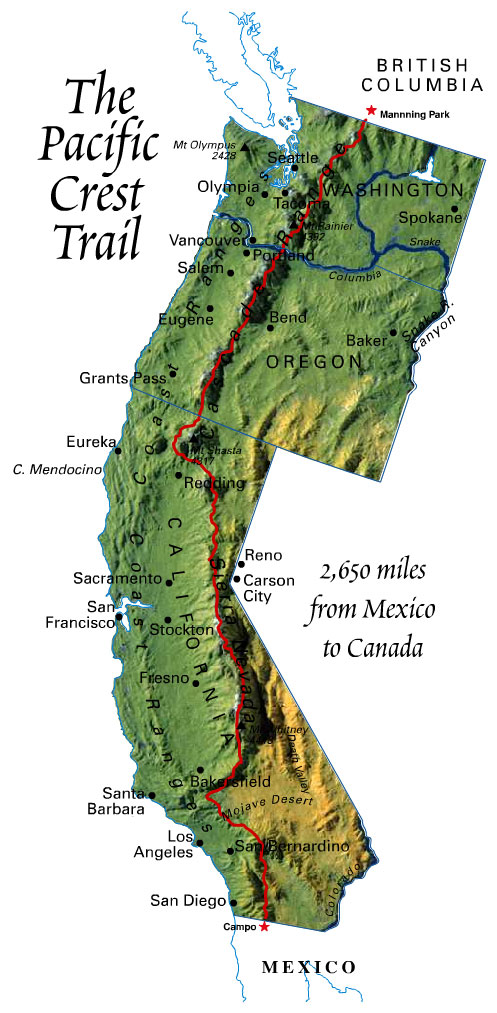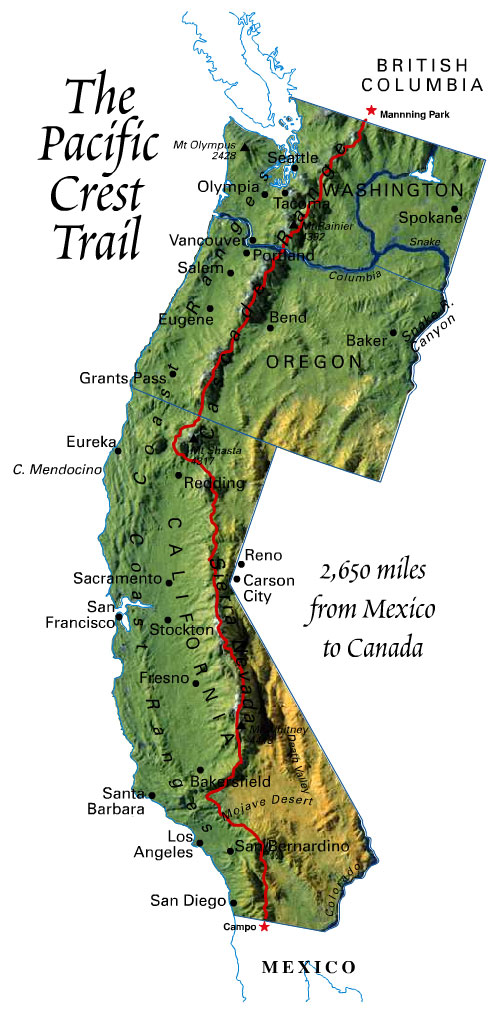 Though not yet set in stone, I'm planning on a start date of April 21th for my PCT hike.   You can resupply by purchasing supplies at stores along the way or shipping packages to post offices and businesses that will hold them for you, or some combination of the two.
If you buy local you are at the mercy of what's available within a reasonable distance from the trail.  It's flexible but you may end up eating nothing but poptarts and candy bars if all you can find is a gas station.   Alternatively, you may have longer hitch hikes to get to larger grocery stores.
If you ship yourself packages to post offices you may end up waiting if you get there on a weekend and the post office is closed.  If you do all your shopping up front you may also end up with packages of food that you are just plain sick of.   On the 500 mile hike on the A.T. that I just completed I did 3 packages and 4 stops where I bought local.  I liked the flexibility of buying locally but it also took more time.
My PCT plan is to do some of each.  I will buy local where it looks feasible and to ship packages where it looks like the shopping would be sparse.   I've read books and blogs by folks who recently did the PCT.  One great source of info is an annual survey of folks who finished the trail that includes questions about food stops, where they would ship vs purchase locally.
I will ship food boxes to 9 of my 26 planned resupply stops.    I expect to shop and package up the first 3 boxes and ship them before I leave.  Gayle will be visiting me in Lone Pine and I'll put together and ship the next two boxes from there.  When I'm in Ashland Oregon I'll buy, box up and ship the remaining 5 supply packages.  It's also possible that I'll just go online and order those boxes from Zero Day Resupply.   There are two other spots where I'll mail only my maps and perhaps a couple of hard to find items.
Here's my draft resupply plan.  The dates are based on a start date of April 21, which isn't set in stone yet.
Note:  This was a draft.  My current and updated resupply plan is available via the top menu or by clicking here.
| | | | | | |
| --- | --- | --- | --- | --- | --- |
| Resupply Point | Trail Mile | Distance From Previous | Type | Wild Ball Park Estimated Date To Not Count On | Distance From Trail & Notes |
| Warner Springs | 109.6 | 109.6 | USPS food | April 26 | 1.2mi road east;  USPS to Warner Springs Post Office,  Warner Springs CA 92063 |
| Idyllwild | 179.4 | 69.8 | buy | April 30 | 2.6mi trail + 2.6mi road to campgrounds w/showers, laundry, grocery stores; outfitter has fuel cans |
| Big Bear | 266.1 | 86.7 | buy, USPS maps 2 & 3 | May 5 | 9mi road SW to Big  Bear Lake – groceries, restaurants, sporting goods, Big Bear Hostel $20 bunk; fuel cans at big 5; mail to Big Bear Lake PO; (overnight here) |
| Wrightwood | 369.4 | 103.3 | buy | May 10 | 5.5mi east trail to grocery store, motels, hardware store w/fuel cans, camp wrightwood is barebones hostel if stuck in town. |
| Agua Dulce | 454.5 | 85.1 | buy | May 15 | on trail, grocery store, restaurants, Hiker Heaven Hostel (aka Saufley's) |
| Mojave (hwy 58) | 566.4 | 111.9 | buy | May 20 | 12 mi road east to Mojave w/ grocery store, motel 6, fuel cans at hardware store; alternative is 9.2 mi road west to Tehachapi with grocery stores  (overnight here) |
| Kennedy Meadows | 702.2 | 135.8 | USPS food, gear maybe | May 27 | .5mi road to Kennedy Meadows General Store |
| Lone Pine (via Cottonwood Pass) | 750.2 | 48 | Gayle brings gear, food, map 4 | May 30 (3-4 days off here) | 3.8 mile trail to Horseshoe Campground then 20 mile road to Lone Pine.  My wife Gayle is meeting me here and I'll take 3-4 days off. |
| Independence (via Kearsage Pass) | 788.9 | 38.7 *** | buy | June 9  (snow advanced course) | Start this section by meeting Mtn Education group 1 mile north of Cottonwood Pass on evening of June 3.   Receive steep snow skills training while hiking trail north.   Mileage for side trip to summit Mt Whitney is not included in section mileage.  7.5 mi trail up over Kearsage Pass to Onion Valley trailhead then a 13 mile road to small grocery in Independence.  Lone Pine is another 16 miles south. |
| Vermillion Valley Resort | 874.5 | 85.6 | UPS food, map 5 | June 18 | 1.5mi trail + 4mi ferry ride;  UPS package to Vermilion Valley Resort c/o Rancheria Garage |
| Tuolumne Meadows | 942.5 | 68.0 | buy | June 24 | .3mi trail to campground store |
| South Lake Tahoe | 1,090.8 | 148.3 | buy | July 3 | 12.0mi road NE to groceries, restaurants, pharmacy, outfitter |
| Sierra City | 1,195.4 | 104.6 | USPS food, maps 6 & 7 | July 9 | 1.4mi road to USPS package to Sierra Country Store, 123 Main St, Sierra City, CA 96125;  River Haven Hostel |
| Belden | 1,284.3 | 88.9 | buy | July 14 | on trail small store, limited |
| Old Station | 1,371.0 | 86.7 | buy | July 18 | .3mi trail to mini mart |
| Burney | 1,408.8 | 37.8 | buy | July 20 | 7.7 mi road sw to conv store |
| Castella | 1,498.6 | 89.8 | buy | July 24 | 2mi road to safeway, laundry, restaurants, campground near PO |
| Seiad Valley | 1,653.4 | 154.8 | buy | August 1 | on trail small store |
| Ashland | 1,716.2 | 62.8 | buy | August 5 (~3 days here) | 13mi road to grocery store, motels, pharmacy, hostel (wife Gayle meeting me here, taking several days off) |
| Crater Lake (Mazama Village) | 1,819.2 | 103.0 | buy | August 11 | 2mi road to campground store |
| Shelter Cove Resort | 1,904.1 | 84.9 | UPS food, maps 8 & 9 | August 15 | 2.2mi trail to UPS to Shelter Cove Resort & Marina |
| Olallie Lake | 2,043.1 | 139.0 | buy | August 21 | .1mi trail to camp store; |
| Cascade Locks | 2,144.2 | 101.1 | buy | August 25 | on trail grocery store |
| White Pass | 2,292.4 | 148.2 | USPS food | September 1 | .5mi road; USPS to Kracker Barrel Store, Naches, WA 98937 |
| Snoqualmie Pass | 2,390.6 | 98.2 | USPS food, map 10 | September 5 | .3mi road;  USPS to Snoqualmie Pass, WA 98068 |
| Skykomish | 2,461.6 | 71.0 | USPS food | September 9 | 16.2mi road west; USPS to Skykomish, WA 98288 |
| Stehekin | 2,569.2 | 107.6 | USPS food | September 14 | 11mi road (bus possible) USPS to Stehekin, WA 98852; free camping, coin showers |
| Manning Park | 2,661.3 | 92.1 | done! | September 19 | hostel, lodge, restaurant, greyhound to Vancouver; go home! |