Day 103: Goat Rocks Wilderness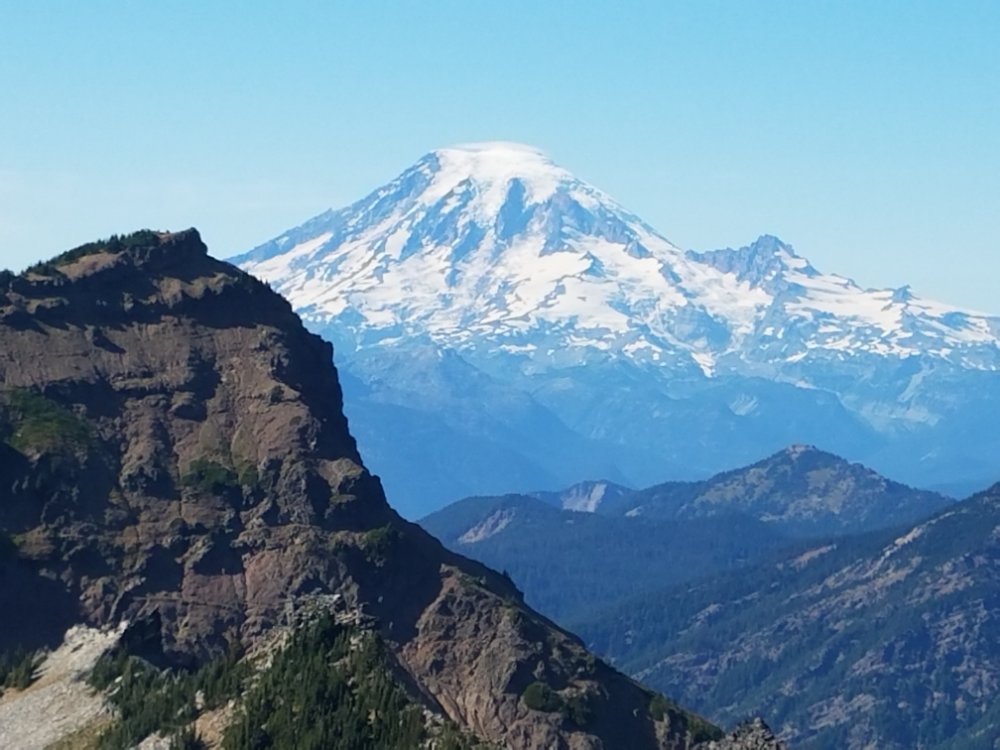 From mile 2255.7 to mile 2277
At 2:30 this morning I got up to pee. I went just a short distance from my tent and was taking care of business when there was the sound of a branch breaking. I turned towards the sound and flicked my headlamp on. Headlights. That was my initial fleeting thought. No, yellow eyes, but huge. And far apart, like a foot apart. And looking at me from perhaps 50 feet away, up near the trail. After a few moments the eyes disappeared and all I could tell was that something big was moving away. In the morning, on the trail, there were large good prints. My visitor had been an elk.
The morning hike was gorgeous and fairly easy. Views of Mt Adams to our south with ponds and berry patches slowly gave way to views of Mt St Helens and Mt Rainier. We entered the Goat Rocks area and climbed above tree line. There were simply incredible views, meadows and streams flowing from the glaciers just above and east of the trail.
In the afternoon the trail climbed Old Snowy Mtn and became rocky and much more difficult hiking. There were a couple of short stretches of snow on the trail, much more snow just above the trail.
For 3 or 4 miles it followed a narrow ridge top with steep drops on both sides and trail that was mostly loose rocks. I have a bit of a fear of heights and this stretch made me nervous.
We only made 21.3 miles and camped in a high saddle with a stream. It is chilly here and there is some snow close to our camp. We also have a great view of Mt Rainier.